Both HLK-LD2410B and HLK-LD2410C radar modules are 24G radar Bluetooth two in one modules developed by Hi-link, which sense the presence/static/motion of human body, support the parameter adjustment of upper computer and APP, and support the upgrade of APP OTA.
This product is mainly used in indoor scenes, sensing whether there is movement or micro movement of the human body in the area, and outputting real-time detection results. The farthest sensing distance can reach 5 meters, with a distance resolution of 0.75m. Provide visual configuration tools that can easily configure sensing distance range, sensing sensitivity in different intervals, and unmanned delay time to meet different specific application requirements. Supports GPIO and UART outputs, plug and play.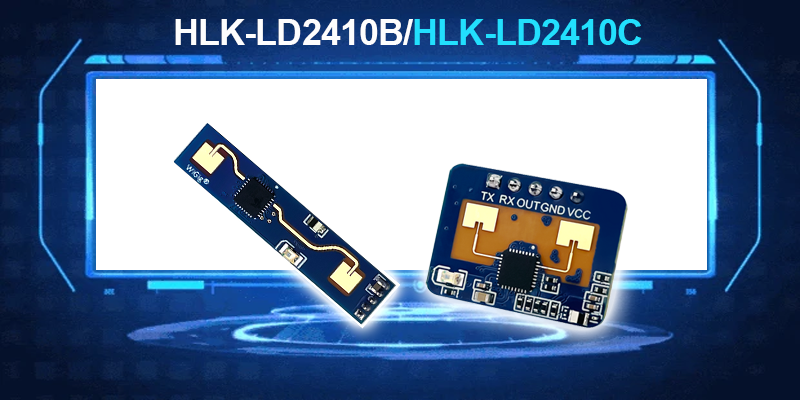 LD2410B/LD2410C Product Features
-Frequency: 24GHz -24.5GHz
--Modulation method: FMCW
--Detection distance: 0.75-6m adjustable
--Sensing angle: ± 60 °
--Working voltage: 5V
--Working current:~79mA
--Serial output level: 3.3V
--Sweep frequency broadband: 250MHz (in accordance with CE/FCC certification standards)
--Working temperature: -40 ℃~+85 ℃
--Data format: serial port ASCII output/high and low level 3.3V&0V
Differences: packaging
--HLK-LD2410C :16mmx22mm
--HLK-LD2410B: 7mmx35mm
The HLK-LD2410B and HLK-LD2410C modules are equipped with photodiodes, which can automatically detect the photosensitive value in real-time and determine whether to execute the output of the OUT pin based on the photosensitive value.

After adding photosensitive functions to the HLK-LD2410B and HLK-LD2410C modules, the APP (HLKRear Tool) OTA function has been added, allowing users to upgrade photosensitive firmware through the APP OTA.
In addition, Hi-link will continue to update and upgrade the HLKRear Tool APP functions, and will add functions such as light sensitivity threshold in the future
Product link:
HLK-LD2410B: https://www.hlktech.net/index.php?id=1094
HLK-LD2410C: https://www.hlktech.net/index.php?id=1095