MT7981B Dual Band WiFi 6 Routing Module Gigabit AX3000 OpenWrt Gateway Module without Cooling Fin HLK-RM65

Warmly notes: this link only for the module without cooling fin.
Introduciton
HLK-RM65 is a high-performance embedded WIFI6 AX3000 module launched by Hi-Link Electronics, which is highly integrated the on chip system wireless network router module uses the MT7981B+MT7976C+MT7531A scheme, with a theoretical maximum wireless speed 574Mbps+2402Mbps. Used for high wireless performance, home entertainment, and home automation.

The SoC used is manufactured using advanced silicon technology and integrates dual core ARM ® Cortex-A53MPCoreTM, working up to 1.3GHz frequency and more DRAM bandwidth. It also includes various peripherals, including SGMII and USB3.0 (host) port. two 2.5Gbps HSGMII Ethernet interfaces have also been implemented. MT7981B, combined with RF chips, can provide
the WIFI6 AX3000 wireless router platform provides a dual frequency concurrent chipset solution.
Features
Power (2.4GHz and 5GHz) MIMO 802.11 A/B/G/N/AC/AX RF, power 20/40/80/160MHz

Flash/DDR3 expansion contains DDR3/DDR4-2133 2GB/4GB

Power: 2.4-2.4835GHz 5.180-5.885GHz

Chengdu 2.4GHz/5GHz PA, LNA

Cable connection method: I-PEX generation 1

Mouth wan. lan1. lan2. lan3. lan4. lan5. usb3.0;

Wide area network access PPPoE, mobile IP, IP, 3G/4G/5G

Static address configuration, virtual server configuration, port forwarding DMZ

Organization name: DC3.3V5A
Diagram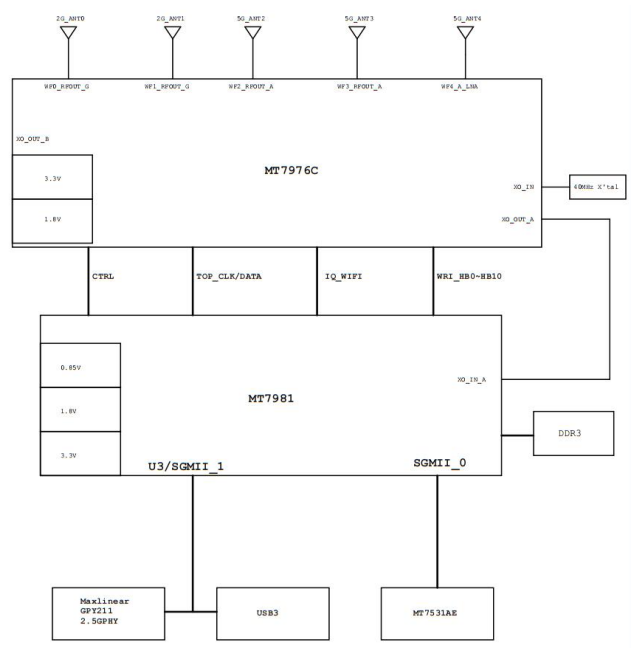 Technical Specifications
Model
Mode
HLK-RM65

Wireless

parameters

Wireless

standards

2.4-2.4835GHz
5.180-5.885GHz



















Transmitting

power

802.11b: +23±1.5dBm (11M)
802.11a: +20±1.5dBm (54M)
802.11g: +20±2dBm (54M)
802.11n(20M): +18±2dBm (MCS7)
802.11n(20M): +19±2dBm (MCS7)
802.11n(40M): +18±1.5dBm (MCS7)
802.11n(40M): +19±1.5dBm (MCS7)
801.11ac(20M):+17.5±2dBm (MCS9)
801.11ac(20M):+17±2dBm (MCS9)
801.11ac(40M):+17.5±1.5dBm (MCS9)
801.11ac:(40M)+17±1.5dBm (MCS9)
801.11ac(80M):+17.5±1.5dBm (MCS9)
802.11ax(20M): +17±1.5dBm (MCS11)
802.11ax(20M): +17±1.5dBm (MCS11)
802.11ax(40M): +16.5±1.5dBm (MCS11)
802.11ax(40M): +17±1.5dBm (MCS11)








802.11ax(80M): +17±1.5dBm (MCS11)








802.11ax(160M): +15.5±1.5dBm (MCS11)








































Receiver sensitivity

Unit:dBm
ch1
ch6
ch13
unit:dBm
ch50
ch114
ch163
2G BW20: (MCS0) -
-93.5
-93.5
-93.5
5G BW20: (MCS0)
-92.5
-92.5
-92.5
2G BW20:(MCS7)
-74.5
-74
-74
5G BW20:(MCS7)
-73.5
-73.5
-73.5
2G BW20: (MCS9)
-68.5
-68
-68
5G BW20: (MCS9)
-68
-68
-68
2G BW20: (MCS11)
-63
-63
-63.5
5G BW20: (MCS11)
-62
-62
-62
2G BW40: (MCS0)
-90.5
-90.5
-90.5
5G BW160: (MCS0)
-83
-83
-83
2G BW40: (MCS7)
-71.5
-71.5
-71.5
5G BW160: (MCS7)
-64.5
-64.5
-64.5
2G BW40: (MCS9)
-65.5
-65.5
-65.5
5G BW160: (MCS9)
-58.5
-59
-59
2G BW40: (MCS11)
-60
-60
-60
5G BW160: (MCS11)
-53
-53.5
-53.5
Antenna form
External: I-PEX first generation antenna base * 5
Hardware parameters

Storage
DDR3: 256M(2Gbit); Nand Flash: 128M(1Gbit)
Hardware port
UART,GPIO, SPI,USB,PWM
Ethernet port
Gigabit Ethernet port * 6: WAN * 1, LAN * 5
USB
Partial foot multiplexing
USB3.0*
PCIe
PCIe*1
SGMII
2.5G SGMII*1
Working voltage
3.3V

Working current
Continuously sending=>Average: 2.8A@3.3V (It is recommended to have a 3.3V power supply capacity of over 5A)

In normal mode=>Average: 1.27A@3.3

IO drive capability
VMax:12ma
Temperature
Working temperature:-20℃~80℃
Passage size
60*90mm
Storage temperature
Temperature: -40~+85 ℃, relative humidity: 5% -90% RH (non condensing)
Software parameters
Wireless network type
STA/AP/APClient
Upgrade command
Web page upgrade, command network port upgrade
Network protocol
IPv4, TCP/UDP
Software environment
Openwrt
User profile
Web page configuration
Product pictures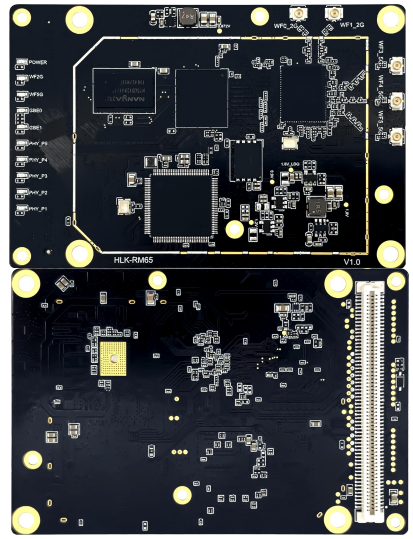 Electrical parameters
Parameter
Min

typical

Max
Unit
Module supply voltage
3.1
3.3
3.5
V
Chip supply voltage
3.1
3.3
3.5
V
I/O voltage
3.1
3.3
3.5
V
Module average power consumption
4.0

W
Module current peak
2.8

A
Power supply current requirements


≥5


A
Power supply ripple requirements


≤50


mV
ESD contact discharge


±2


KV
ESD non-contact discharge


±2


KV