24V to 12V 5W 0.42A DC to DC Isolation Voltage 1500VDC Power Module Converter VRB2412YMD-5WR3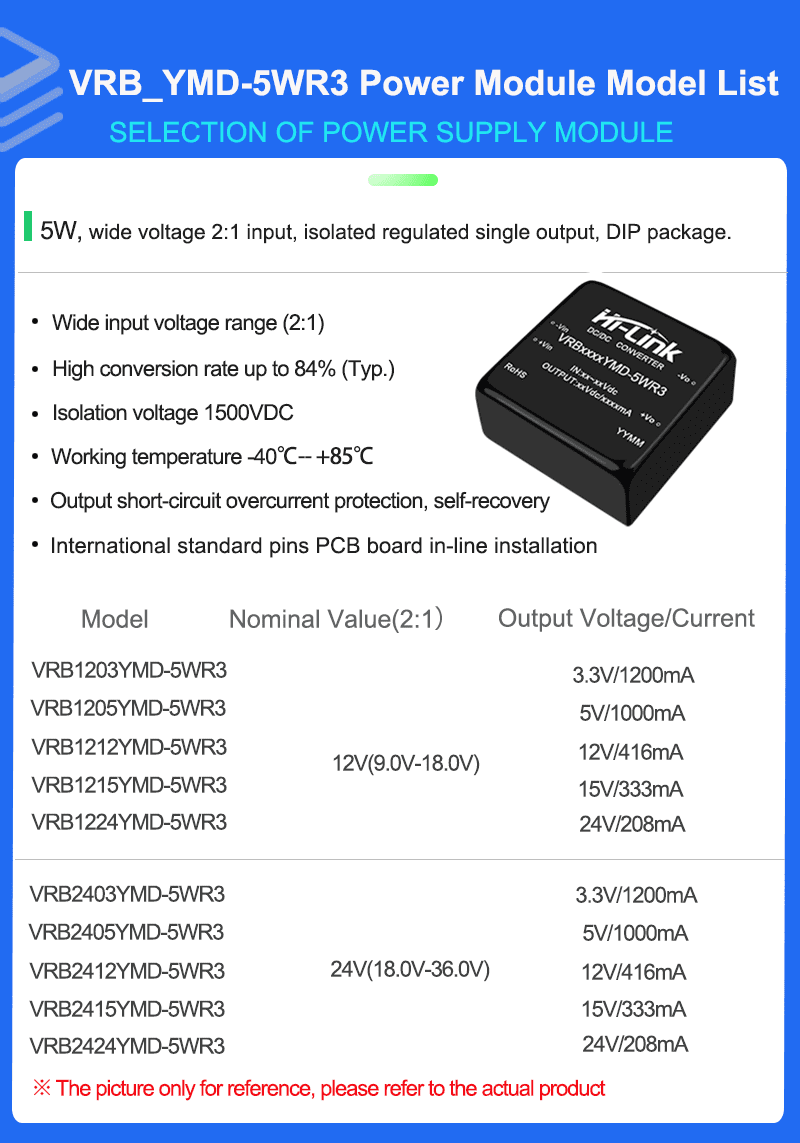 Product Feature
1. Wide input voltage range 2:1, isolated regulated output 5W
2. Isolation voltage 1500VDC
3. Transfer efficiency up to 84%
4. Quick Start:1mS(Typ)
5. Operating temperature range :-40°C~+85°C
6. Small SIP package, metal case, low output ripple
7. International standard pin,direct installation of PCB board
8. Output short-circuit protection: continuous short circuit protection, automatic recovery
Enviroment Condition
| | | | |
| --- | --- | --- | --- |
| Project name | Qualification | Unit | Notes |
| Working enviroment temperature | -40—+85 | ℃ | |
| Storage temperture | -40—+125 ℃ | ℃ | |
| Relative humidity | 5—95 | % | |
| Heat dissipation mode | natural cooling | | |
| Atmospheric pressure | 80—106 Kpa | Kpa | |
| Ripple & Noise | 50/80(max) | Mvp-p | |
Input Characteristics
Item

Working conditions



Min.
Typ.
Max.
Unit
Input voltage range(fully loaded/unloaded)
12VDC Input Series
3.3V
-
428/25
440/30
mA
others
-
534/25
548/30
24VDC Input Series
3.3V
-
214/13
220/15
others
-
267/13
274/15
48VDC Input Series
3.3V
-
107/7
110/8
others
-
134/7
137/8
110VDC Input Series
3.3V
-
47/3
48/4
others
-
58/3
60/4
Reflected Ripple Current
12VDC Input Series
--
-
--
mA
24VDC Input Series
--
-
--
48VDC Input Series
--
-
--
110VDC Input Series
--
20
--
Impulse voltage (Isec.max)
12VDC Input Series
-0.7
--
30
VDC
24VDC Input Series
-0.7
--
50
48VDC Input Series
-0.7
--
100
110VDC Input Series
-0.7
--
200
Start voltage
12VDC nominal input series, nominal input voltage
-
-
9
24VDC nominal input series, nominal input voltage
-
-
18
48VDC nominal input series, nominal input voltage
-
-
36
110VDC nominal input series, nominal input voltage
-
-
72
Input undervoltage protection
24VDC nominal input series, nominal input voltage
5.5
6.5
-
48VDC nominal input series, nominal input voltage
12
15.5
-
110VDC nominal input series, nominal input voltage
32
36
-
Input filter type




Capacitance filter type

Hot plugged




Non-support

Output Characteristics
Project name

Working and testing condition
+V01
-V02


Min.

Typ.

Max.

Min.

Typ.

Max.
output load
load percentage
0%
-
100%
0%
-
100%
Output Voltage Accuracy


-
±1.0%
±2.0%
-
±2.0%
±3.0%

Linear adjustment rate

input voltage range

-

±2.0%
±0.5%
-
±1.5%
±2.0%
Load adjustment rate

20%~100% rate

load, balanced

--

±0.5%

±1.0%

-
±4.0%
±5.0%
Ripple & Noise
Pure resistive load, 20HMz bandwidth, peak-to-peak

--

50mVp-p
80mVp-p
-
50mVp-p
80mVp-p
Output voltage regulation
Input voltage range

-
No adjustment end
-
-
No adjustment endNo adjustment end
-
Output short circuit protection
Continuous short circuit protection, automatic recovery


Notes: Ripple and Noise Test Methods Twisted Pair Test Method






Note:
1、The above is only a list of typical products. If you need products beyond the list, please contact our sales. 2、The maximum capacitive load indicates the maximum capacitive load that + VO or - vo can be connected to,If the value is exceeded, the product will not start normally..
Typical Application Circuits

EMC parameter recommendation
Component No.

Function

Recommended value

FMSE

Slow blowing fuse, selected according to the actual input current of the customer




CY1 safety capacitor

1nF/250Vac
Notes:More details please feel free to contact hi-link team.